Winners 2016

QUEENSLAND YACHTING AWARDS 2016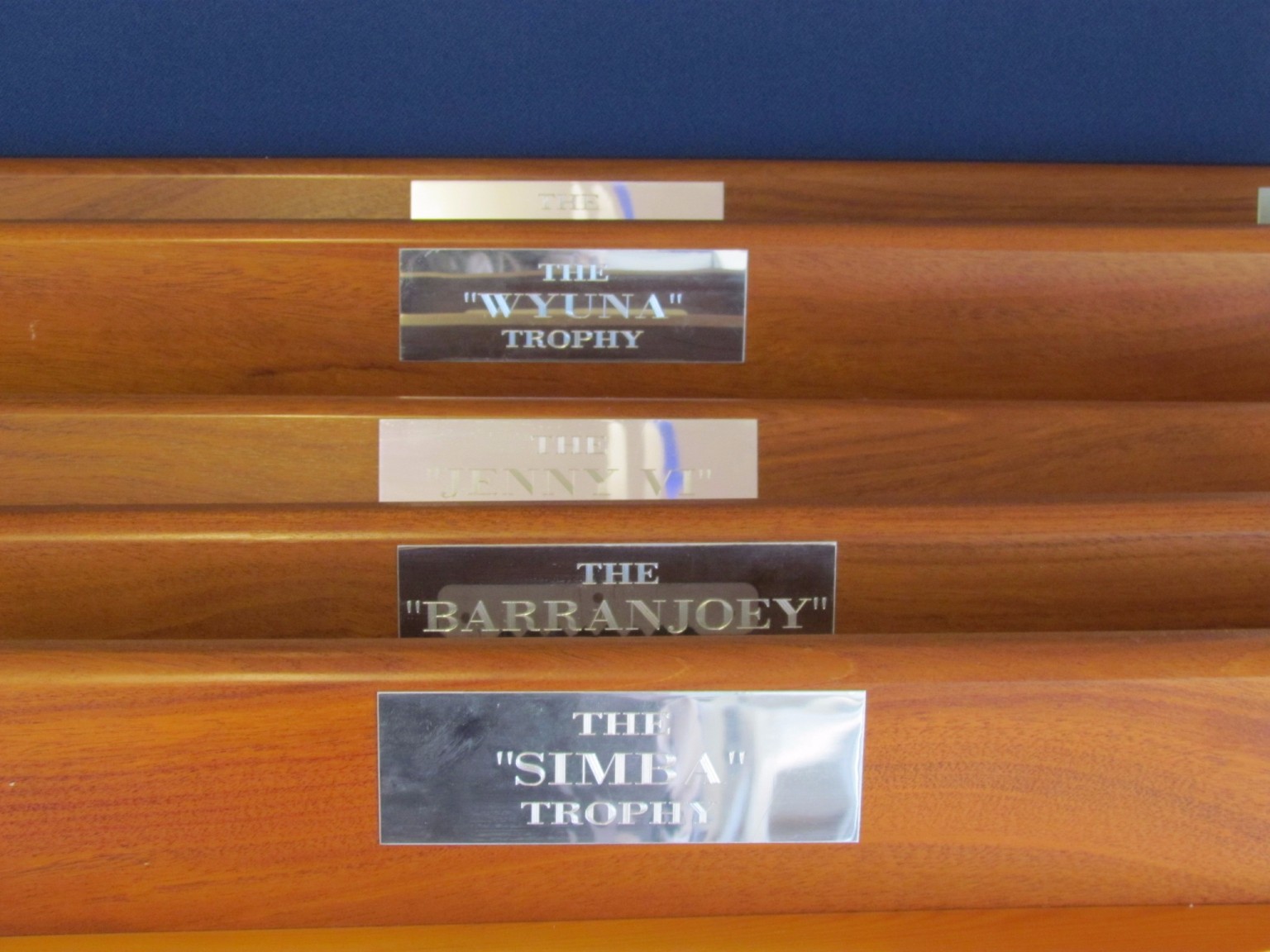 Olympians Kick Off the Start of the Awards Night
The 2016 Queensland Yachting Awards Night began with a light hearted question and answer session from Olympians, Ashley Stoddart & Jake Lilley, who gave their responses to questions such as, when did you think that representing Australia at the Olympic Games, the pinnacle of our sport, might just be possible? They had us all laughing when Jake retold a tale of his funniest moment at the games.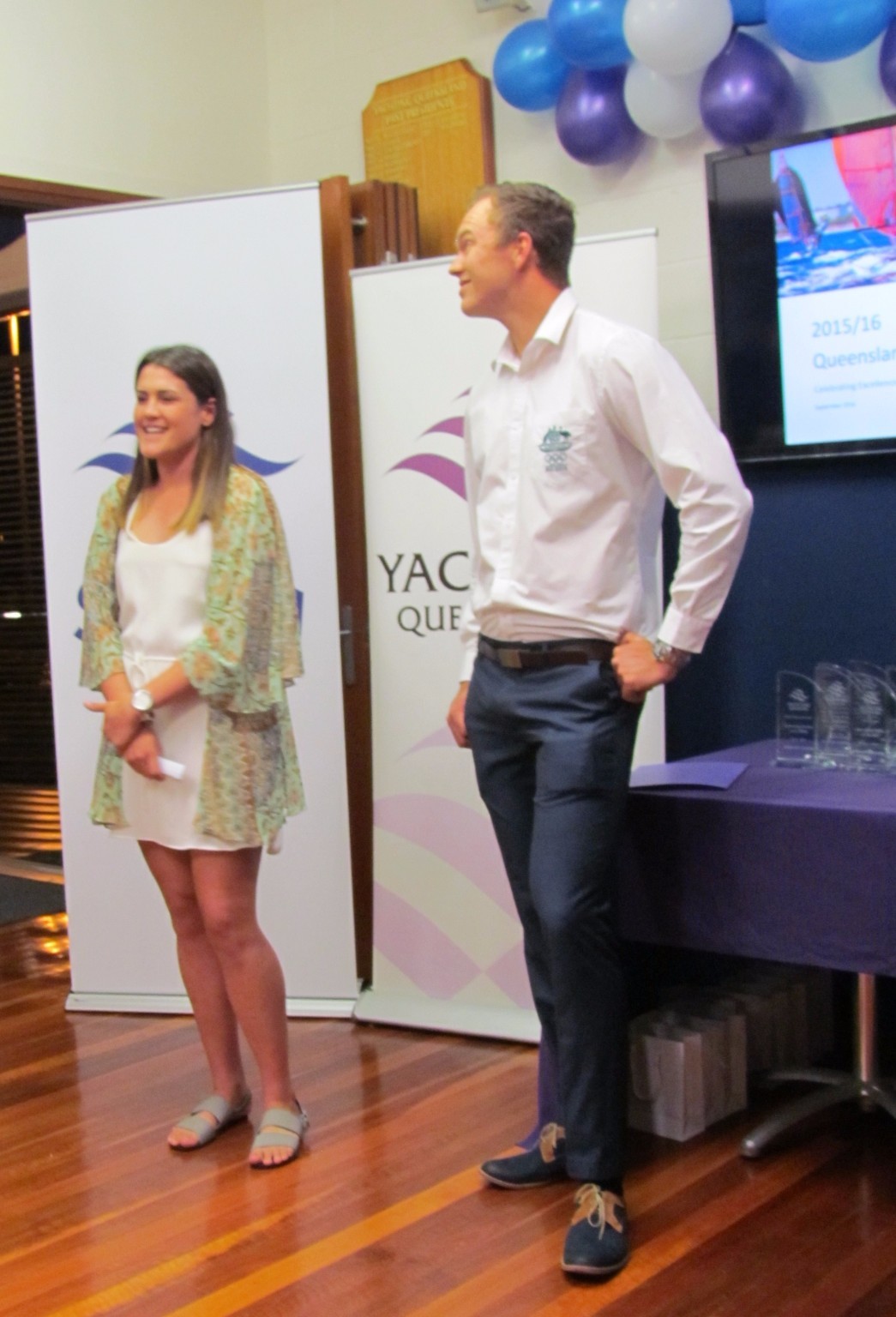 Ashley Stoddart & Jake Lilley
The evening continued with presentations that recognise the exceptional achievements of Queensland sailors throughout the 2015-16 year.
From four nominations for the Simba Trophy for Queensland Junior Sailor of the Year, Ashleigh Swadling was the chosen winner. Ashleigh was the first Australian Girl to win the women's event at the New Zealand Optimist Nationals and then subsequently won the Australian Women's Optimist Nationals in January 2016. This level of representation at such a young age is not only a spectacular achievement on her behalf, but sets an inspirational standard for young Australian women sailors across the sport. Ashleigh is also a budding mentor and ambassador for the sport.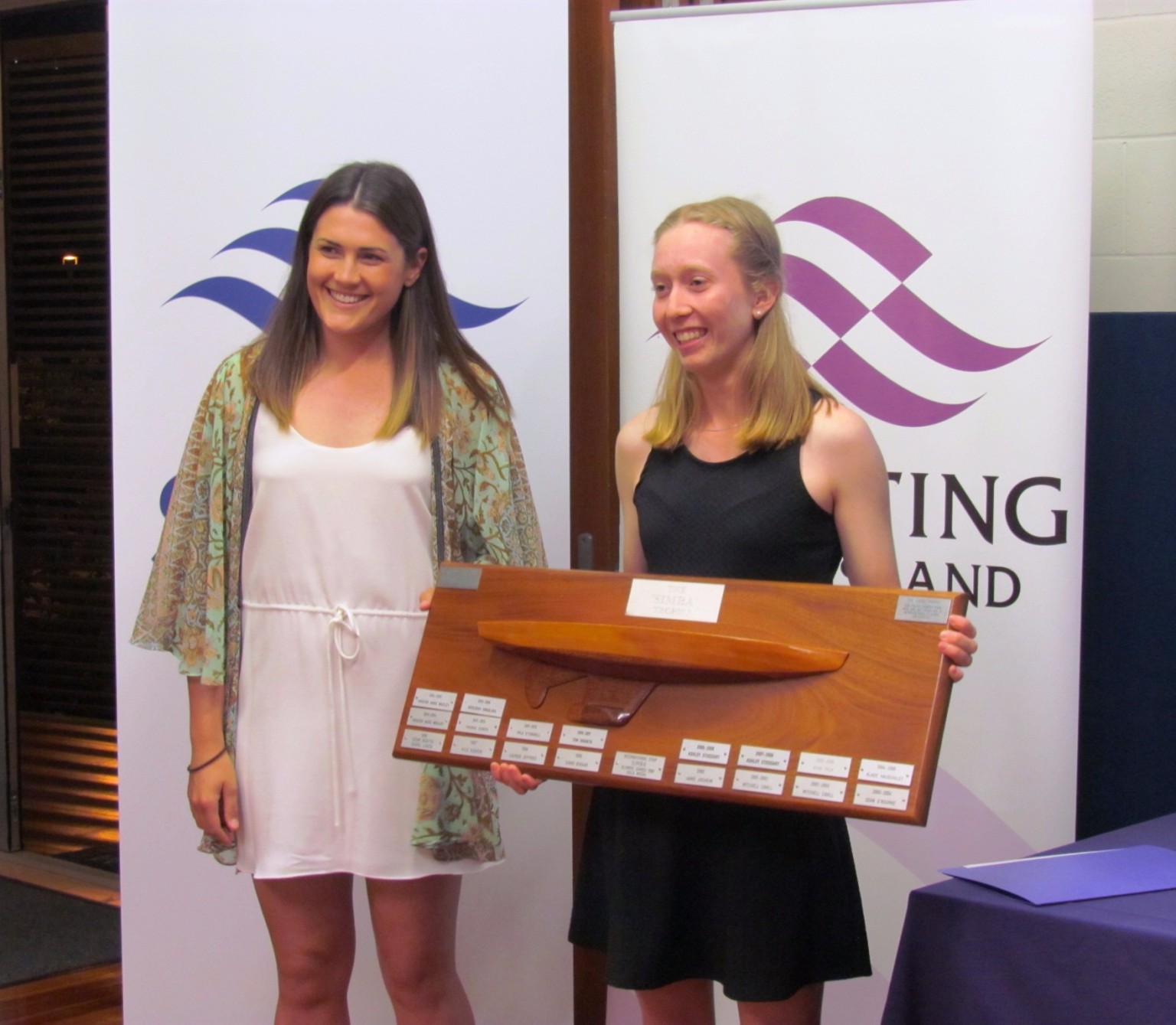 Simba Trophy presented to Ashleigh Swadling by Ashley Stoddart
The lucky winner for the Barrenjoey Trophy saw Jai Tooley as the Queensland Youth Sailor of the Year. Jai is a team player, & has a great rapport with everyone due to his compassionate, friendly nature. Jai is an accredited Assistant Instructor and works at Yorkey's Knob Boating Club helping to run the Tackers learn to sail program. He regularly instructs at Cairns Yacht Club & Sailability as well & often volunteers for jobs others would not touch, such as boat maintenance & handyman tasks. This year Jai was invited to join the QST, which shows his dedication & self-motivation to sailing as he has received very little coaching or training so far. Jai sails an F18 & is about to take ownership of the new international youth class, a Nacra 15, to pursue Youth Worlds qualification and selection.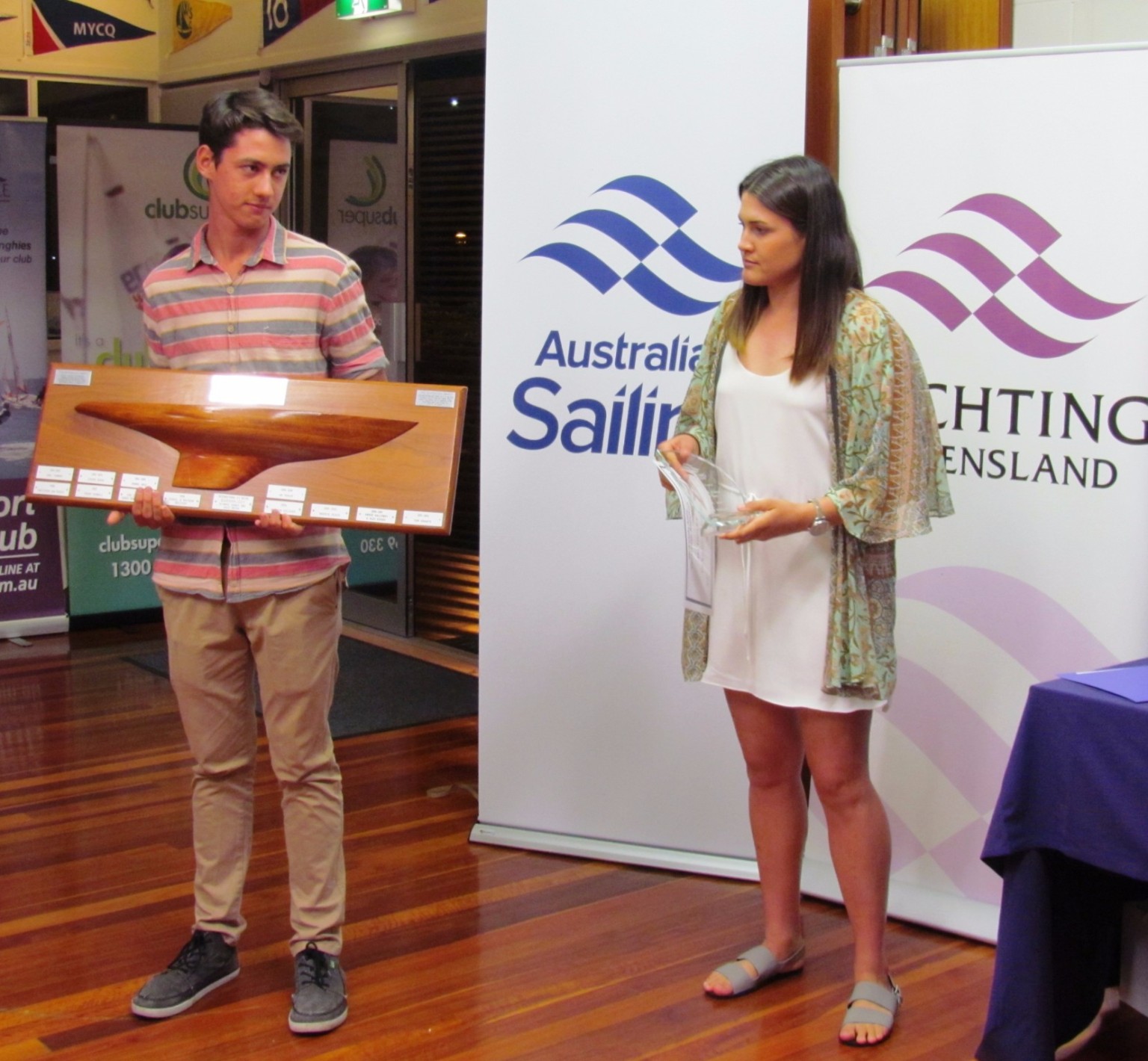 Barrenjoey Trophy presented to Jai Tooley by Ashley Stoddart
The Queensland Female Sailor of the year and winner of the Jenny VI Trophy went to Ashley Stoddart. Ashley is a devoted sailor, enthusiastic ambassador & incentive mentor to young women sailors. She is one of the youngest sailors in the top of the Laser Radial fleet & consistently achieves high level results in events at home and overseas, resulting in Ashley representing Australia in the Olympics in Rio this year. She is ranked 13 in the world in women's laser radials, but consistently performs in the top 10. As an ambassador for sailing she contributes at many club & other events to support & promote sailing to women and youth.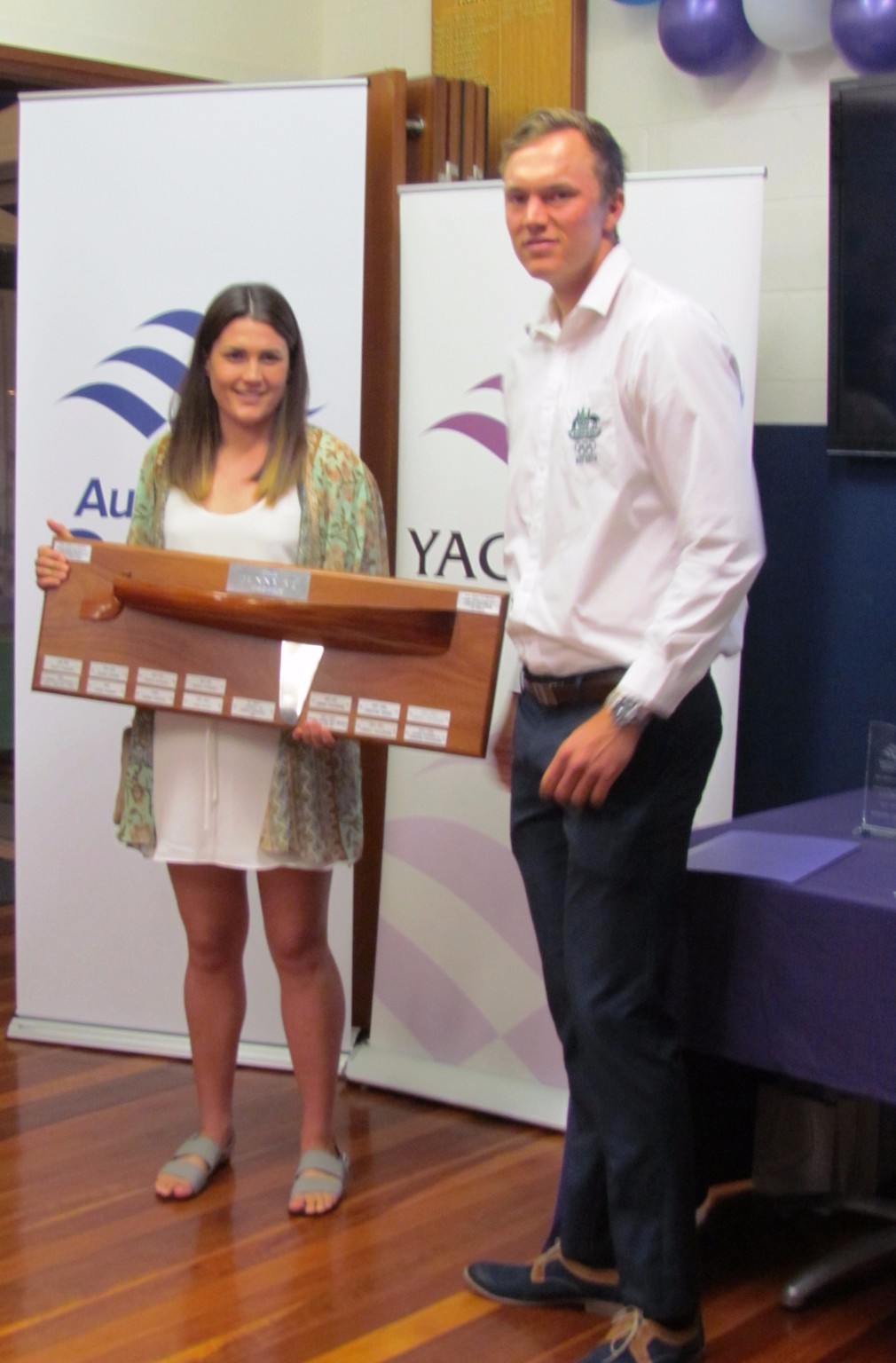 Jenny VI Trophy presented to Ashley Stoddart by Jake Lilley
Not to be outdone by his co-presenter, Jake Lilley took the Wyuna Trophy as Queensland Male Sailor of the Year. Jake is dedicated to his club, class, Australia & sailing in general. He is supportive & has inspired many young sailors who would wish to follow in his footsteps and is an excellent ambassador for the sport. He shows his commitment to sailing by the strong results in every event in which he participates. The list is too long to go through, but Jake has consistent top 10 results in the Finn, consistently ranked top 5 in the world after the World & European Championships, winner of the World Cup – Hyeres & represented Australia in the Olympics Rio 2016 – coming 8th overall.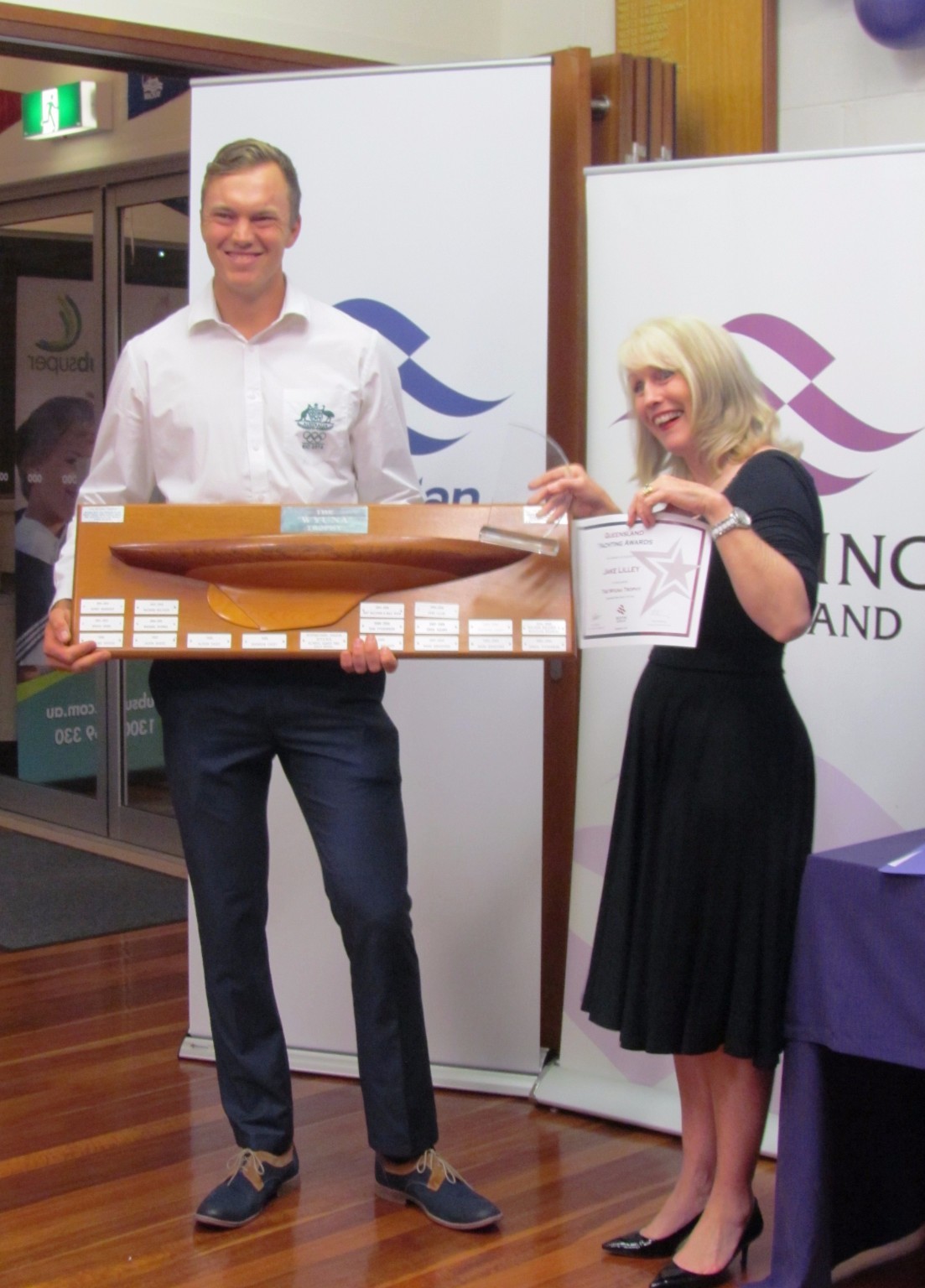 Wyuna Trophy presented to Jake Lilley by YQ Board member Lyn Hanlon
The other awards were then presented with the Official of the Year being won by Rosemary Collins. Rosie has contributed significantly to training & mentoring young sailors, in particular females (she also contributed to the 2016 GALS event.) She has served on numerous sailing event committees and juries, world championships & ISAF events as an Official, she is an accredited National Judge. Rosie is also a Board Member of Australian Sailing. Prior to officiating, Rosie was and still is, herself a keen sailor for many years sailing a laser.
Instructor of the Year went to Phoebe Stewart from Noosa Yacht & Rowing Club. As an 11 year old, Phoebe started on her way through the NYRC Youth Sail Program & completed the School Based Traineeship Program. She has gone on to become an accredited Dinghy & Keelboat Instructor. As Sailing Captain of her school, Phoebe has helped expand the school's sailing program & won the Sunshine Coast Inter School Regatta. Phoebe is also passionate about helping children with disabilities to sail & regularly supports the Sailability Program at NYRC. She also received a GALS (Girls & Ladies in Sailing) award this year.
Brady Lowe won the Coach of the Year award. Brady started as Director of Sailing for The Southport School, where he progressed the program from 25 to over 100 successful students. Brady is currently a coach to the athletes in the Qld Sailing Team & has coached the laser sailors to the top 10 results at Laser & Youth Nationals, Sail Melbourne & Sail Sydney. He has had some athletes chosen to represent Australia in Optimist & laser classes. Brady also coaches at Royal Queensland Yacht Squadron including the winner of Sail Melbourne in the Laser 4.7 class. He is also responsible for the RQ Youth Squad Program & has developed a Junior Coaching Network within the club to enable sailors to give back to others & create a community. Brady is committed to the RQ Sailing Academy, young & up-coming sailors, and the sport of sailing.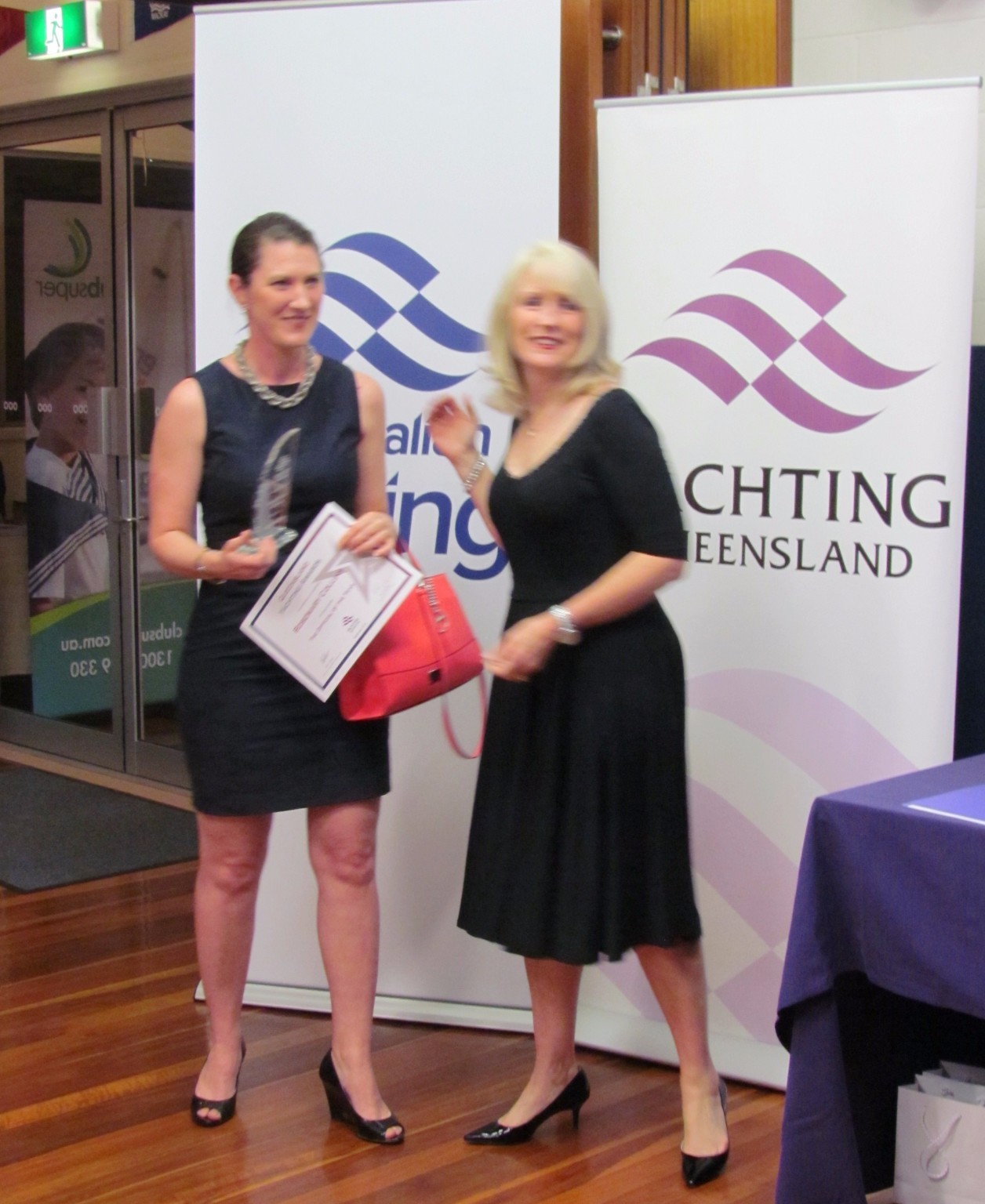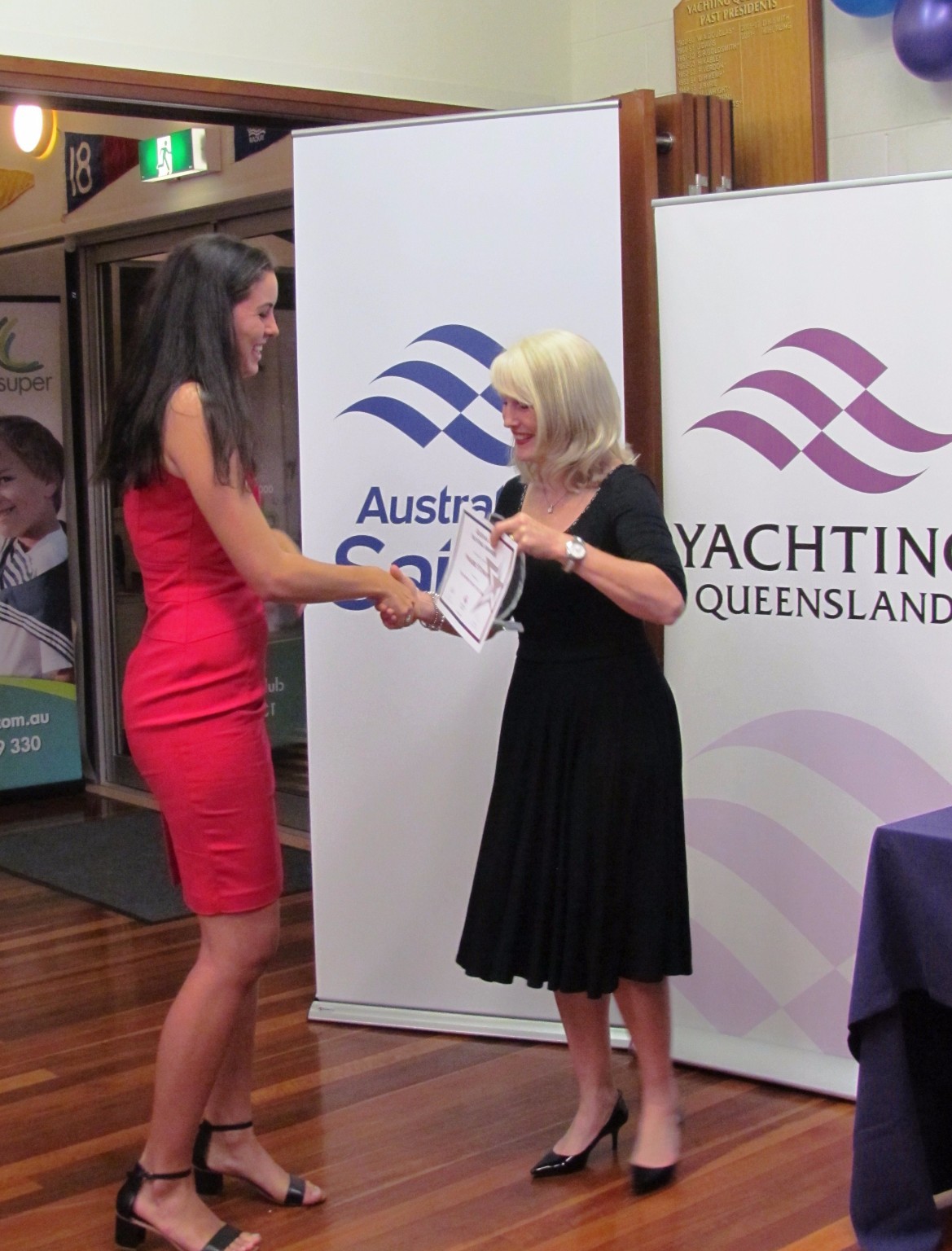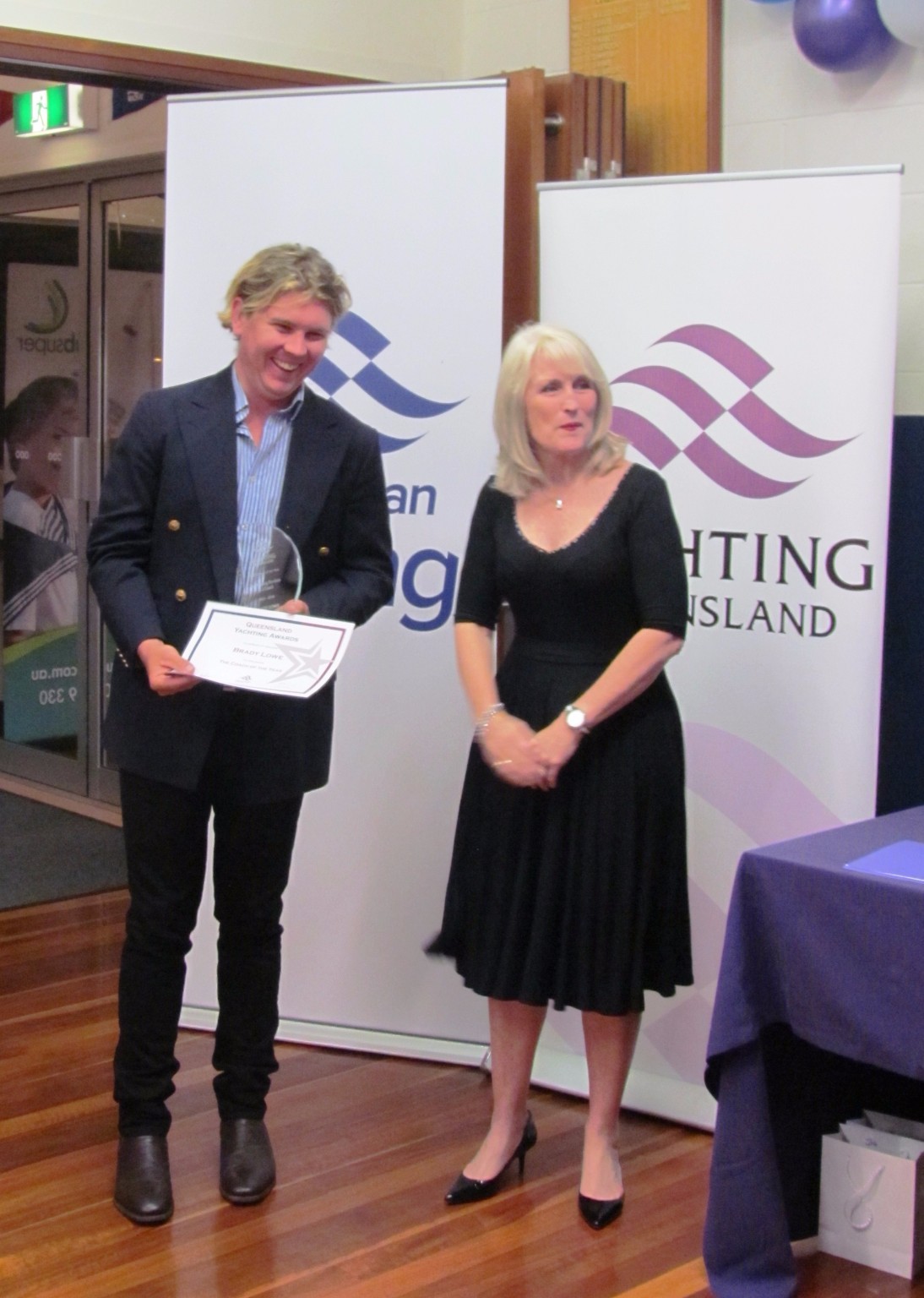 Rosemary Collins, Official of the Year, Phoebe Stewart, Instructor of the Year, Brady Lowe, Coach of the Year receiving their awards from Lyn Hanlon
The Club of the Year award went to Royal Queensland Yacht Squadron.This club is a strong performer in membership acquisition & retention, which are currently at historic 'best ever' levels & the majority of these are on water participants, giving RQYS one of the highest percentages compared to other clubs in Australia. The club's commitment to its members has led to the improvements in services & facilities and a wider choice of sailing programs to cater to a broader range of participants. Funding has been sought for a new windsurfing facility & a new venue on North Stradbroke Island has been procured. These efforts should strengthen the greater sailing community, support the local community & ensure that more men, women & children can participate in our sport. RQYS has had success in youth sailor development, supporting 20 sailors to compete in World & Continental Championships & had 5 sailors competing at the Rio Olympics this year. The squadron is host to 3 National level sailing events; Sail Brisbane, Schools Teams Racing & Qld Youth Week, supporting 1000 competitors.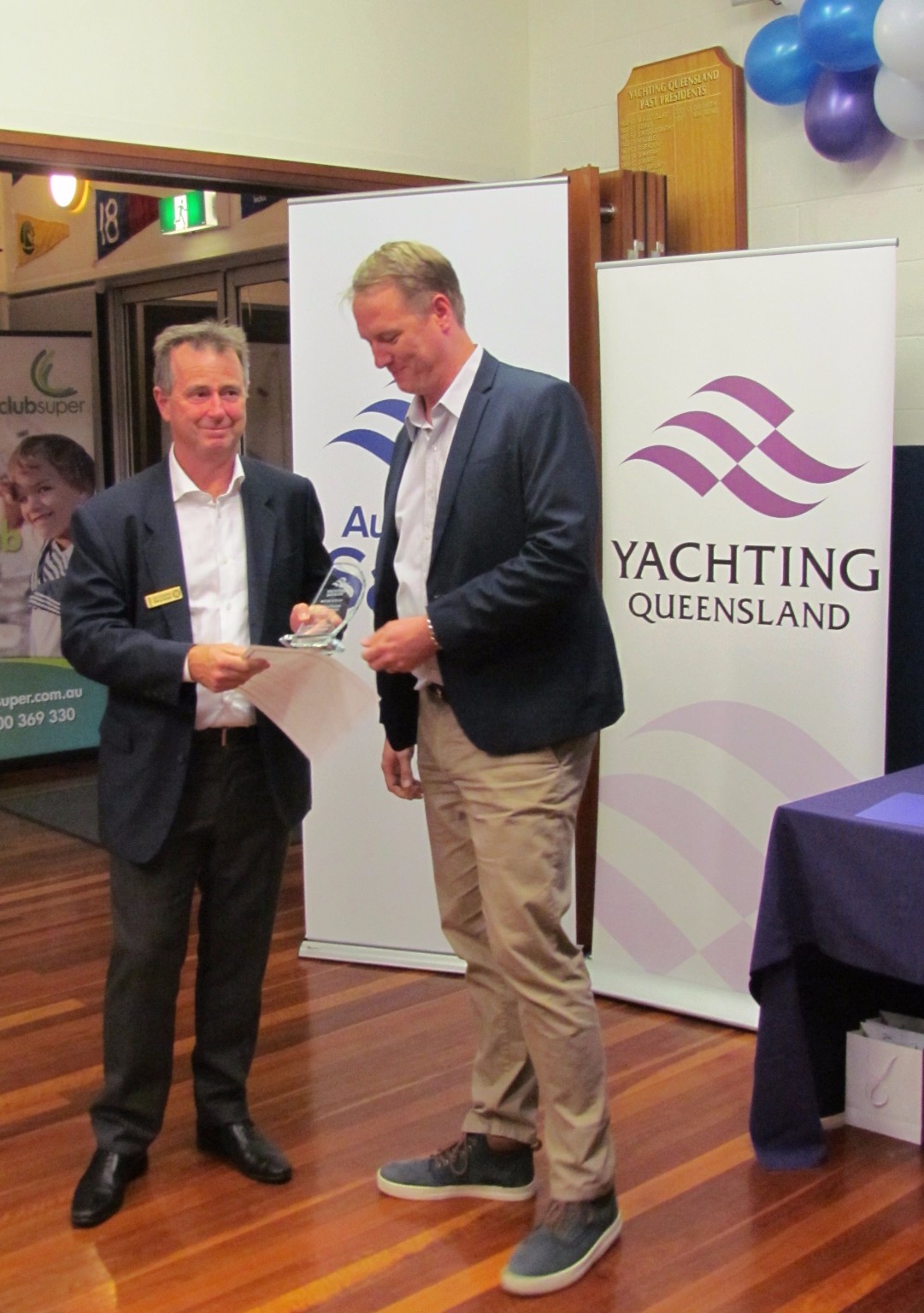 Royal Queensland Yacht Squadron Club of the Year presented by YQ Board Member, Matthew Johnson
The finale of the evening was the presentation of the Solo Trophy for outstanding service to sailing and was won by Heinz seeberg from Sunshine Coast Yacht Club. Heinz was the Commodore 2009-2012 and an active member of Sunshine Coast Yacht Club (SCYC) for the past 8 years and has been involved in the sport over 4 decades. He has raced in many regattas include crewing on a class winning yacht at Hamilton Island Race Week in 2013. He has enjoyed cruising with his wife in both Australia and the Mediterranean.In its formative years SCYC had an uncertain future, being unable to obtain a lease for club premises due to the on-going legal battles between fractured groups. The process to secure the club premises and acknowledge SCYC as the resident club, took careful and skillful negotiations over many months and Heinz was largely responsible in successfully achieving this within six months of becoming Commodore. He has continued to support the SCYC's strong and cooperative relationship with the Marina since then such as; being the key role in organising Jessica Watson's "Welcome Home to Mooloolaba" function thereby raising the profile of sailing, with multi-channel TV coverage, he restructured and formalised SCYC's sailing activities, including the re-introduction of the Sunshine Coast Ocean Regatta (SCOR), developed the application of the TopYacht software to provide a standardised scoring process for SCYC & trains in its use & finally he regularly acts as Race Officer. His resilience and tirelessness is quite extraordinary.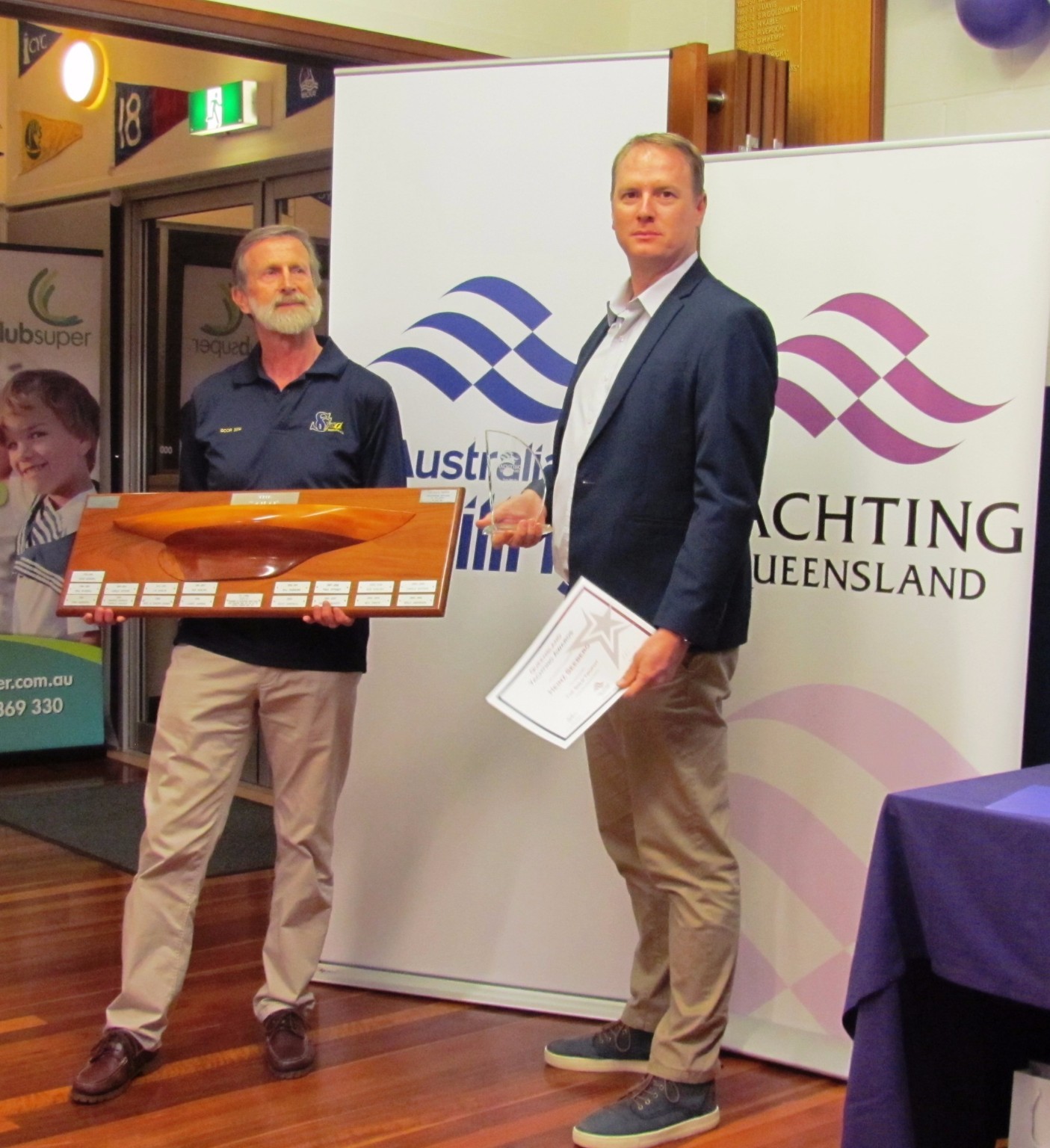 Solo Trophy presented to Heinz Seeberg by Matthew Johnson
Photos of all nominations
| | |
| --- | --- |
| | |
| Simba Nominees: Talia Bulstrode (not pictured), Tom Wright, Ashleigh Swadling & Kristen Wadley with presenter Ashley Stoddart | Barrenjoey Nominees: Jai Tooley & Tom Needham with presenter Ashley Stoddart |
| | |
| Jenny VI Nominees: Ashleigh Swadling & Ashley Stoddart with presenter Jake Lilley | Wyuna Nominees: Joel Turner & Jake Lilley with presenter Lyn Hanlon |
| | |
| Official of the Year Nominees: Reece Foort & Rosie Collins with presenter Lyn Hanlon | Solo Nominees: Jane Virtue (not pictured). Heinz Seeberg & Rob Davidson with presenter Matthew Johnson |
We are all looking forward to receiving more nominations and hosting this event again in 2017!