YQ 2011-12 Annual Awards - Trophy Presentation
Tuesday 20 November saw the recipients of this year's YQ Annual Awards receive their Trophies from the Minister for Chatsworth, Assistance Minister for Public Transport.
For the night the recipients invited their family, friends and co-sailors to share in this special event. The night was convened at YQ Headquarters which provide a social evening of networking between Sport officials, Steve Minnikin Member for Chatsworth, Ken Hurling YQ President and YQ Board Members.
A special item of the night was the annoucement of the YQ Award aligned to coincide with Olympic competition "Best Performance of a Qld Sailor at Olympics"
This year the YQ Award went to Mat Belcher, Gold Medal winner from the London Olympics.
Unfortunately Mat could not be in attendance due to training commitments and the award was accepted on his behalf by long term friend and mentor Adrian Finglas, YA State Coach.
The Wyuna Trophy " Qld Male Sailor of the Year" was awarded jointly to Kerry Waraker and Bruce Arms.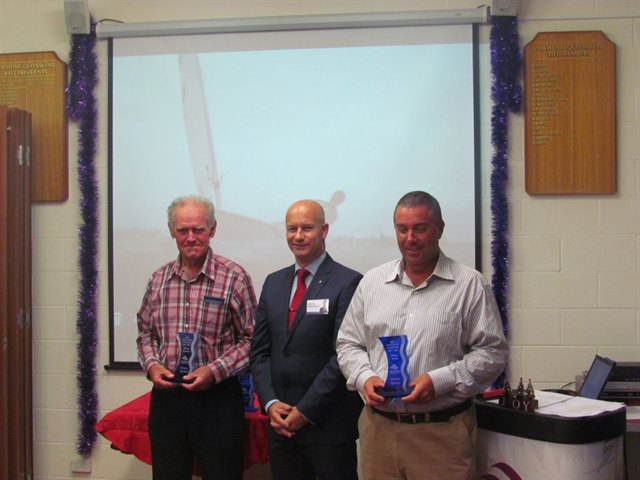 Kerry holds the titles of Great Grand Master Laser Sailor 2012 as well as being a Life Meber of the Laser Association
Bruce holds the single-handed Around Australia World Record - 38 days 21 hours 41 minutes 42 seconds, also a 2 time winning competior in Solo Trans-Tasman Races
The Jenny VI Trophy "Qld Female Sailor of the Year" was awarded to Ashley Stoddart.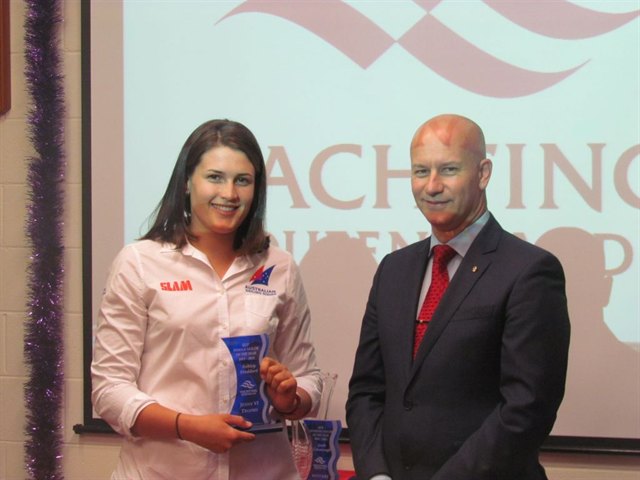 Ashley has maintained her comment to training by retaining a postition with the Yachting Australia ASS, competiting in both International and National events.
The Simba Trophy "Qld Junior Sailor of the Year" was awarded to Kyle O'Connor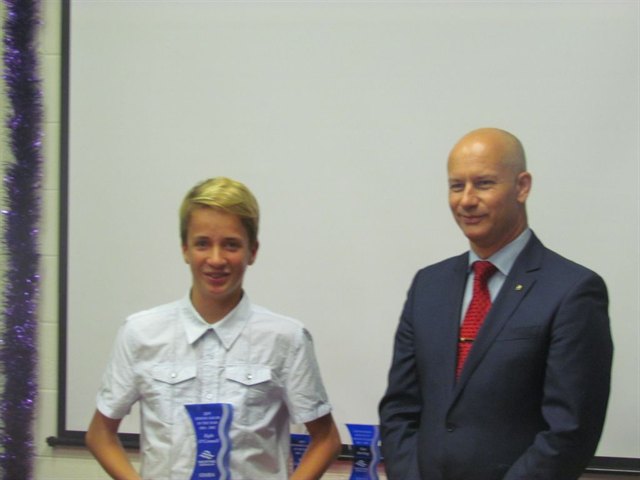 Kyle spent the year competing in both the Optimist and Sabot Class obtain a 1st Sabot Nationals and 4th Optimist Nationals
The Barrenjoey Trophy "Qld Youth Sailor of the Year" was awarded to Joel Turner and Tom Siganto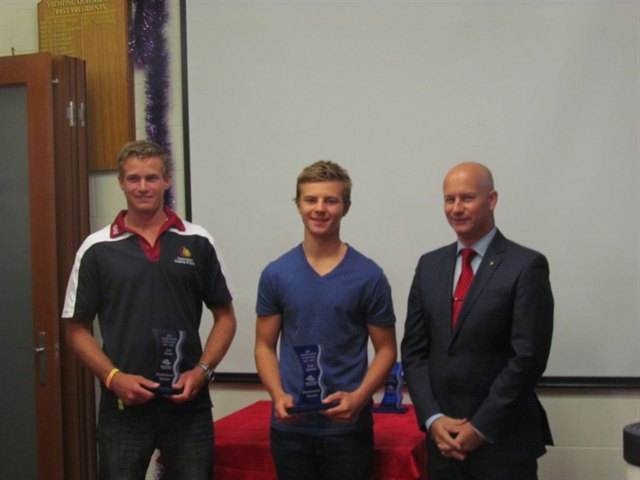 Joel and Tom have been competing in the 29er Class for the year attending State, National and International events, with results of 1st Qld Championships, 2nd NSW Championships, 1st Australian Youths, 5th Youth Worlds Ireland, 36th Worlds Germany in a fleet of 220 yachts.
The Wistari Trophy "Qld Offshore Sailor of the Year" was awarded to Scott Cavanough
.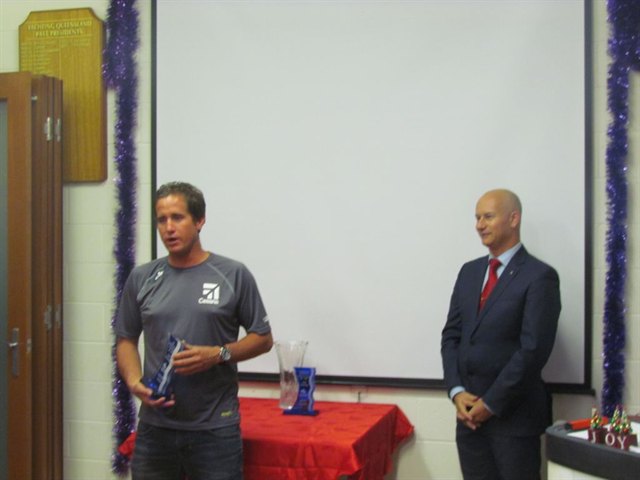 Scott's offshore campain for 2011- 2012 resulted in him accomplishing amazing results whilst sailing long distances and enduring all weather conditions in both singled and doubled handed world events.
This included being hit by a oil tanker when 900nm from the finish of the 4,500nm Solo LaRochelle - Bahia event.
The Solo Trophy "Outstanding Services to Sailing in Qld" was awarded to Ken Hurling.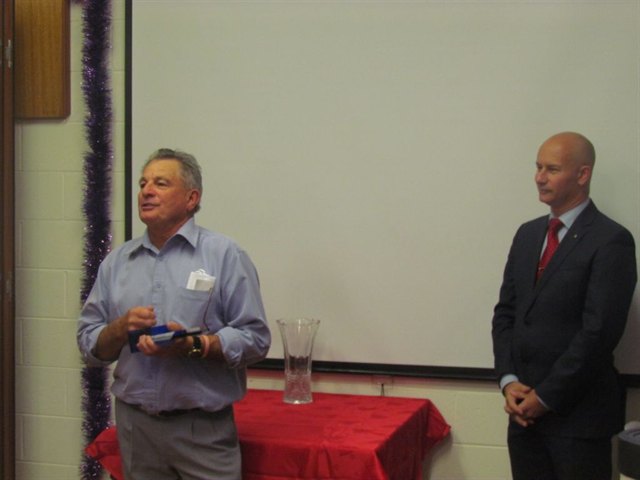 Ken whilst holding the position of President of Yachting Queensland continues to find the time to mentor the young and youth sailors of Qld at all levels of comeptition, coaching School Team Sailors, laser 4.7 and radials holding his most passion seeing him travel the full coastline of Australia supporting sailors. He also is volunteer president of the Australian Laser Assoc.
Best Performance of a Qld Sailor at Olympics was award to Mat Belcher. (accepted by Adrian Finglas)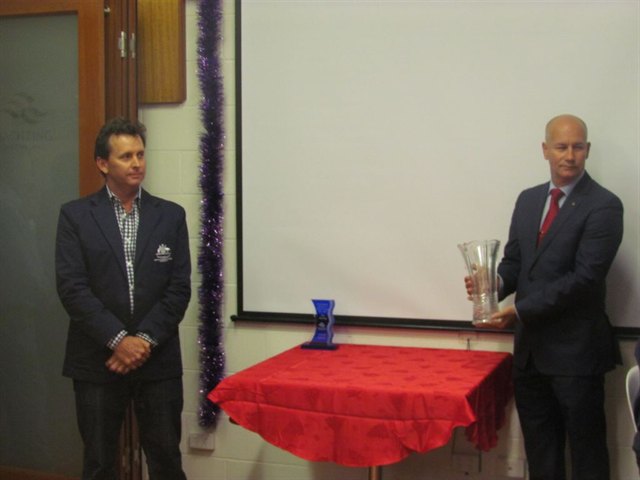 Mat with his crew of 4 years Malcolm Page continued their world winning form by winning a Gold Medal at the London Olympics 2012.
Last Modified on 15/08/2015 14:38